Swivl Teams + Robot provide a
secure and easy way for teachers
to record or live stream video for
coaching, self-reflection,

hybrid learning, and more!
Swivl Robot
Auto-tracking video base
Designed for education, the Swivl Robot is an auto-tracking base for capturing video with phone or tablet.
The teacher simply wears a marker with a built-in microphone that swivel tracks automatically. The Swivl connects to a smart phone or tablet.
Recording and live streaming in-class video couldn't be easier.
Swivl Teams
Coaching, recording and live streaming Apps
We've helped over 50K schools worldwide with their coaching initiatives over the last ten years. Based on our learning, we've created a framework we call The Coaching Construct. We've learned that what makes coaching work is strong, trusting relationships.
Teams apps make it easy to record, live-stream and analyse in-class interactions for objectives based teacher skills development.

Plug + play
Capture pro-quality video and audio without specialist knowledge or training

In class and remotely
Easily link students, peers and mentors—wherever, whenever

Archive and reflection
Free cloud-based storage and a dashboard for detailed,user-friendly analysis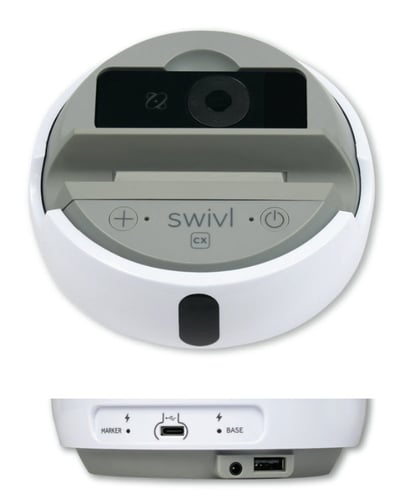 Swivl Robot is so easy
Insert* your phone or tablet in

t

o the Base and connect the single cable.
Unique robotic-precision ensures Swivl tilts and pans to capture peerless vision and audio.
No guesswork: a single cable (supplied) connects Swivl Base to the inserted device
Attach the wearable Marker to engage Swivl's tracking
Infra-red tracking keeps the primary presenter front and centre
Failsafe: Swivl cleverly guards against accidentally mixing up what-plugs-in-where

Swivl readily accepts Apple iPhones, iPads (iOS 10.0+) and Android (OS 9.0+) devices.
Swivl Teams is so powerful
Easily share recordings with people inside and outside the classroom

Upload standards from a rubric, or use pre-built templates for evaluations
Provide specific and actionable feedback with time-stamped comments and Glows + Grows
Collect and analyze evidence with the comprehensive dashboard — e.g. teacher/student talk time
Set intentions to help define "look-fors" for self-reflection and peer feedback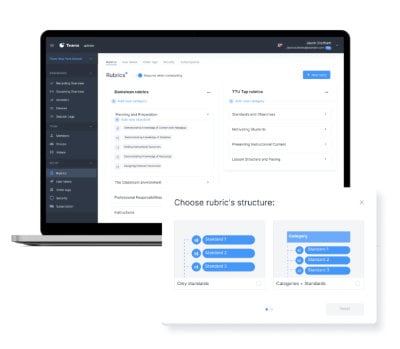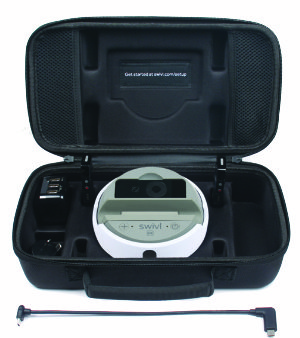 User-friendly technology with plug-and-play operation
Insert your phone or tablet, connect a single cable, attach a marker, open the app and start.
Educators are talking about Swivl
"Swivl helps ease the stress of evaluations by accessors not needing to be in the classroom."
"Being an easy and accurate record, Swivl lets me study students' participation levels."

"Even after 16+ years as an educator Swivl is an invaluable tool for my self-reflection."

Pro-quality capture, free storage and effortless collaboration
Markers

Swivl focusses on whoever is in possession of the Primary Marker. Additional 'Secondary' markers allow others to be included in Swivl's tracking and recording.

Swivl App

A user can adjust settings, control recordings and then manage videos—all via the comfortable familiarity of an internet browser.

Play, pause, stop

Educator Swivl is an invaluable tool for self-reflection.
Bookmarking

Instantly tag single or multiple moments during recording for later editing.

Time stamping

Precise parts of a lesson can be annotated with comments, including feedback and questions.

Detailed analytics

Project-owners can monitor how their works are accessed, including total visitors, their names and the percentage they watched.
Swivl Link

Plug this (optional) wireless device into any usb-enabled computer and remote participants enjoy a quality audio stream—an invaluable addition to any Teams, Zoom-based presentation.

Swivl Cloud

Educators enjoy easy uploading of projects and unlimited, free storage. Archived files are then available for skill development and self-reflection.

Importantly, a powerful suite of online tools let users add, edit and share stored projects.
Find a reseller
Tell us about your school or application and we'll recommend one or more resellers to help you.